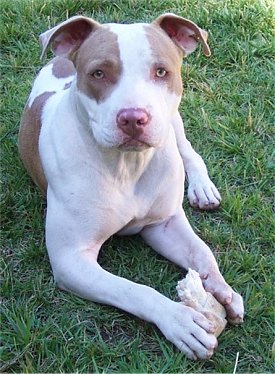 I'm a firm believer in adopting a dog when you are looking to get a new one. There are more than enough breeders, pet stores and puppy mills out there adding to the overcrowding of dogs in this world every day. It's much better to go to your local animal rescue shelter and give a home to a dog in need.
There are plenty of wonderful dogs and puppies to adopt from just about any animal shelter. And you will always have the joy and satisfaction of knowing you rescued your dog and gave him a home when he really needed one. Every dog/puppy I have ever rescued was just as good, or better, of a pet than all the ones I purchased from breeders.
Lately I've been thinking about getting another dog, so for the past few weeks I have gone to the local animal shelter several times to find the right one. I have found so many that it's almost impossible to choose between them. I wish I could just adopt them all but unfortunately I can't. I enjoy taking as many of them as I can out when I am there and giving them some exercise, love and attention.
Some of the ones I was trying to decide between have now been adopted, which is awesome as far as I am concerned. At least I know they are going to a new home. It's the ones that have been there for a long time that break my heart every time I have to leave them.
Currently there are three dogs/puppies that I have narrowed it down to and I am going back today to see them again. Honestly, I hope they are gone when I get there because then I know they found a home.
Here are the three that I really want right now and am having a tough time choosing:
1) Two year old female Pit Bull named Jazz. Of all the dogs there she seems to be one of the best behaved. She's quiet, calm, obedient, and super cute. I've taken her out several times and she hasn't done anything to deter me yet. As far as I can see she is about as perfect a dog as you can get. My girlfriend absolutely loves her so that helps too.
2) One year old male Black Lab Mix named Elliot. He's a big boy probably weighing around 90 pounds and kind of a brute, but he and I have a bond that started the first day I went in there. I've taken him out a couple times and he's a very good dog.
I feel really sorry for him because he's so big and when you first take him out he likes to jump on you and pulls on the leash quite a bit. After a few minutes he does calm down and listens really well. I just fear that most people won't give him enough of a chance to see how good he can be.
3) Three month old female Pit Bull puppy named Savannah. She's about as adorable as a dog can possibly be. You can't help but fall in love with her as soon as you see her. Yeah she's a little crazy but that can be expected of any puppy. I did some basic training techniques with her and she was surprisingly good for her age. I can tell she will be a great dog in the hands of the right owner.
* Side note: In case you didn't notice, two of the three I have narrowed it down to are Pit Bulls. Most people cringe at the thought of Pit Bulls, however as a very knowledgeable dog person and overall dog lover, I can tell you that they really are one of the best dog breeds in existence. They only get a bad rap because there are some shitty people out there who exploit their desire to please their owners by making them do bad things. They are not naturally bad dogs, far from it actually. Generally speaking, you won't find a better dog than you will with the Pit Bull.
Another thing I like to stress to people when giving information about adopting a dog is to go for the ones that are at least a year old or older. I know I have a young puppy in my possible adoption mix right now, but for the most part I try to only adopt non-puppies and I encourage others to do the same.
You can pretty much count on all the puppies being adopted because they are cute and everyone wants a puppy. It's the older dogs that have less of a chance of finding a home so you can be their savior! Remember, the puppies are going to grow up really fast and before you know it you will have a full grown dog on your hands anyway. Might as well just start out with an adult dog and save yourself some of the headaches that come along with puppies.
Also, when you adopt an adult dog, you already know how big it will be and what it's going to look like when it grows up. Plus, most of them will already be potty trained and have some other training, and you can get a basic idea of what kind of dog they are going to be once you get them home. There are several advantages of adopting an adult dog that you don't get with a puppy.
And, if you can, you should go for the specific breeds or individual dogs that don't have as much of a chance of getting adopted. They need a home too and will be just as wonderful of a pet as the others, maybe even better. These are usually the big dogs, the ones that aren't as cute, the feisty ones, and certain breeds like Pit Bulls, Rottweilers, Dobermans, Akitas and others. They all have less a chance of being adopted so help one of them out if you can. Also, black dogs tend to get adopted far less than any other color, I have no idea why but it is a fact, so go for a black dog if you see any needing a home!
I want to add that I've owned and/or have extensive experience with several dog breeds ranging from small to large. I am also much more knowledgeable about dogs in general than the majority of people in this world. And I can say without a doubt that Pit Bulls and Rottweilers are my two favorite breeds of dog. Please don't form a negative attitude about these breeds by listening to people who are uneducated about dogs, or the ignorant media. Trust me, overall these breeds are two of the most loyal, loving, obedient, intelligent, trustworthy, protective, sweet, clean, fun, and all around amazing breeds there are!
There's no such thing as a bad breed of dog. The only things that are bad are the owners who make the dog the way they are on an individual basis. If you are a good owner who plans to train your dog and care for it properly then you should not be deterred from owning any breed of dog as long as it fits with your personality and accommodations you are able to give it.
Well, I will leave you with that for now. Hopefully I have shed a little light on a few things for you when it comes to adopting a dog. Next time you are looking for a new dog remember that your local animal rescue shelter / humane society is full of awesome dogs that really need your help. You can typically get adoption dogs for much cheaper than anywhere else and they will usually have at least some of their vaccinations done. Even more reasons to adopt a dog!
Comments:
2
| Categories:
Adopting a Dog
,
Dog Information